PinChecked Case Study
View Site+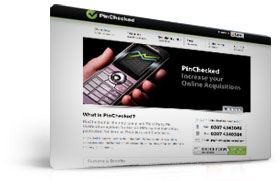 Online sales conversions and regulatory compliance are crucial to a successful online business. Modeva recognises this and PinChecked.com and Modeva's associated Patent facilitate maximising the online opportunity internationally.
Objectives
To design and implement a solution to facilitate an independent online method of authenticating subscription to mobile content services for multiple service providers which:
Creates a secure and easy method of authentication for the user that can be completed in an online environment
Is completely independent of the provider of the mobile content service
Provides a complete audit trail of authentication
Is compliant with the UK Premium Rate Regulatory Authorities Code of Practise (PhonepayPlus)
Solutions
Modeva designed and implemented PinChecked.com, an independent 3rd party PIN verification system. The solution leveraged Modeva's significant experience in system design and SMS integration. Service providers wishing to avail of the PinChecked service implement the PinChecked API on their acquisition web-pages and the PinChecked system then independently sends and verifies a user with a PIN message. Employing our HCI expertise we created a web-interface allowing the regulatory authorities to view the audit logs.
Results
PinChecked.com facilitates all the key stakeholders involved in the transaction:
The User: Safe, Secure & Independent PIN Verification
The Service Provider: Increase margins by reducing customer acquisition costs while complying to regulatory requirements
The Traffic Aggregators: Increase revenues on basis of increased customer acquisitions
The Regulator: Compliant with Code of Practice and reduced investigation time