Aer Lingus/Ryanair Case Study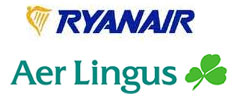 Aer Lingus and Ryanair are leading airlines based out of Ireland. Modeva provided customer facing real-time voice flight information services to both Aer Lingus and Ryanair.
Objectives
Provide consumers with up to date flight information on arriving and departing flights.
Eliminate this workload from human customer agents and allow them to focus on revenue generating activity.
Integrate with existing airline platforms to reduce any modifications needed on their systems.
Provide a solution capable for handling incident (weather, ATC strikes, etc.) level call volumes if necessary.
Solutions
A bespoke voice platform was deployed for Aer Lingus at Dublin Airport. In addition to handling customer flight enquiries the solution also provided ground crews in Dublin, Cork and Shannon Airports with critical flight servicing information.
For Ryanair a virtual hosted solution was deployed within the Modeva Network and which consumers paid a per minute cost to call.
- In both cases real-time integration with their airline information systems was needed.
Results
Highly complex integration with airline information systems was achieved.
We were amongst the first companies in the world to deploy an interactive voice flight information solution.
Modeva handled all flight enquiries from Aer Lingus and Ryanair customer, providing a quick and easy service.