Payzone Case Study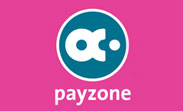 Payzone is a leading operator of payment processing and EPOS solutions working with over 175,000 retailers across 21 countries. Since 2001 Modeva has provided Network services to Payzone Companies within the Irish market.
Objectives
Create a high capacity resilient solution to route inbound calls from electronic payment terminals throughout Ireland.
Retail outlets must not incur any cost in relation to the operation of the terminal.
All calls must be routed, especially during seasonal peak shopping times.
Rapid network response times are needed to minimise terminal transaction times for consumers.
Solutions
Using the Modeva Next Generation Network special direct routing numbers were created allowing terminals to access the Modeva Network without the retail outlet incurring any cost.
Modeva routes calls onward to the Payzone platform directly or via an IP gateway.
Rapid network response times are guaranteed as the whole call is carried over our carrier-grade fibre network using SS-7 signaling.
Results
The solution remains in place since 2001 with Modeva carrying mission critical point of sale terminal traffic across its network.
The Speed and Reliability of the solution has been proven year after year.
Modeva has adapted the solution to changes in technology over the years without interruption.