PrizeClub Case Study
View Site+
The demand for competitions and instant win games has seen phenomenal growth in recent years. Modeva began developing a competition based text product in 2006 and since then we've helped companies like Inkred bring successful brands to market.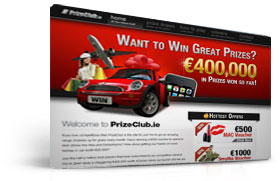 Objectives
Modeva's objective was to create and implement a competition based text platform for it's client Inkred. Utilising our full capabilities we were tasked with:
Development of a text and WAP platform that allowed users to answer questions for their chance to win prizes
Design of a brand and logo suitable for Irish market
Creation of online and offline advertising
Generation of reports tracking the product's growth
Solutions
Modeva developed a sophisticated text application that could handle vast amounts of SMS traffic. Customers were able to subscribe via a text message to the PrizeClub service by responding to an advert seen on TV, Online or in Press. Customers were given the opportunity to increase their chances of winning prizes by answering general knowledge questions via text or on the PrizeClub WAP site.
The Prizeclub service launched around 2006 and proved to be a big success. From 2006 onwards Modeva has worked closely with InkRed to develop and update the Marketing Strategy to promote the continued growth of the service.
Results
PrizeClub has had close to 1 million subscribers
Over €650,000 given away in prizes
50% of all middle aged women in Ireland will see a PrizeClub TV ad every week
30% of the population in Ireland visited PrizeClub website in 2010